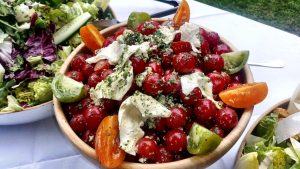 One of the things that inspired us to start our hog roast business over 20 years ago, was the desire to give people the best of both worlds: great food that could be enjoyed in any location along our county's spectacular coastline. People flock to Sussex for its dramatic sea views and beautiful beaches, so we thought it would be great if we could provide a flexible mobile catering service that would allow special occasions to be held in these stunning locations. Two decades later, our approach has proved to be hugely successful and we take great pleasure in being able to offer you high quality food in your dream location, without having to compromise on a single thing.
Our Flexible Approach
We couldn't do what we do if it wasn't for our highly skilled and incredibly adaptable catering team, or our superbly designed hog roast machines. Our chefs and catering assistants are not your average cooks- they can provide consistently excellent food in front of a large crowd and adapt quickly to environments that other catering companies would not even dare to venture to. Our top of the range equipment is equally adept at performing under pressure in any location. Designed to be both easy to transport and incredibly efficient, our hog roast machines are the best in the business, just like our catering team.
Our Versatile Menus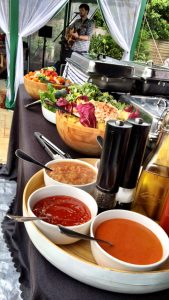 Superb hog roasts may be our speciality and what we are best known for, but as well as being completely flexible with regards to cooking in any location, we also have a huge range of menu options to suit all occasions, budgets and tastes. If you hire us for your wedding reception or corporate event, we can offer anything from an informal buffet to full table service complete with a 3-course meal and canapes. If you are hosting a private party, we will scale down the amount of staff required but still provide the best possible food and service. Whether you are having a small gathering or large event, our level of professionalism remains consistent and all of our fresh locally-sourced ingredients are prepared from scratch at your venue.